Pastor Vasily serves as senior pastor of the family of CityHill Churches, which have grown to 3 campuses with over 2,000 attendees every weekend. Nelya helps oversee the women's ministry at CityHill Church.
Dmitry & Irina Kavaleuski
Pastor Dmitry serves as the lead pastor of City Hill Church Northshore. Before becoming the campus pastor in 2018, Pastor Dmitry and his wife Irina were missionaries in Russia for 18 years. They have a passion for worship, discipleship, community outreach, and raising a new generation of leaders. In addition, they are blessed with two amazing children, who love Jesus and serve in various areas of the church.
In addition to our lead pastors, these couples are part of the eldership team here at CityHill Church Northshore.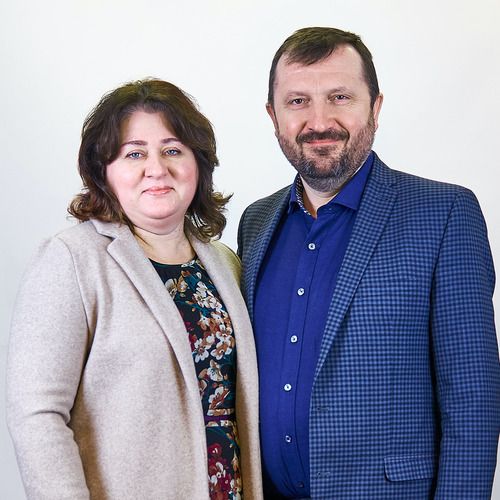 Artem and Irina, and their five children, joined CityHill Church in 2016. Being one of our Ordained Worship Pastors, Artem oversees the Worship Ministry at the Northshore Campus. Prior to their coming to the U.S., Artem lead worship at the Good News Church (Moscow, Russia) with Pastor Rick Renner. In July 2020, Artem and Irina felt the call of the Lord to study Divinity at the Colorado-based Charis Bible College (Andrew Wommack Ministries International). In September 2020, the family relocated to Colorado Springs, CO to pursue the new season. Artem continues overseeing the Worship Ministry remotely visiting back once a month for in-person worship and team working.
Eugene is a great blessing to our team, serving behind the scenes, enabling each ministry to succeed! He also oversees the church facility and runs our media department.
An amazing team dedicates time weekly to pray & prepare lessons for our children on Sundays during the service. In addition, they do special events throughout the year to serve kids of the Northshore region.
Private School & Teens Ministry
City Hill Christian School provides a dynamic classroom environment that teaches biblical truths while inspiring their students toward academic excellence. Vasily also leads the teens ministry where they meet weekly for Bible studies, discussions and fun outings.
Ben and a team of dedicated individuals make up a strong team of people who serve the high school and college students of the Northshore region.
The "YA" do life together, by meeting weekly in several life groups, traveling together and sharing life experiences together!
We guide couples before marriage into relevant conversations about their strength and growth areas, so they can gain skills and resources on a path to a healthy, life-long relationship.
Empowering women to make a personal, local, and global impact while connecting with Christ and each other.